Mary Carroll
Main Content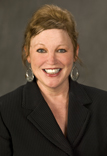 Mary Carroll joined Southern Illinois University Carbondale in January 2007 as director of development for the Chicago region. Carroll organizes and administers strategies to enhance SIU Carbondale's development efforts in Chicago.
Carroll is an alumnus of SIU Carbondale, having earned her bachelor's degree in paralegal studies in 1985 and completing post graduate work in political science in 1986/1987. She obtained a master's degree in 2000 from Roosevelt University in industrial/organizational psychology. In 1991, Carroll joined Jobs for Youth Chicago as the training coordinator, where she worked with young people seeking access to employment in Chicago. In this position, she trained volunteers from the business community and developed the curriculum for the career planning and placement program. In 2000, Carroll consulted on the development, fundraising and start-up of i.c. stars, a high-tech training and placement program for Chicago young people, while heading a consulting firm for nonprofit organizations, MC-Squared. Carroll then served as executive administrator for the American Dental Hygienist Association's foundation, Institute for Oral Health, from 2001 to 2004.
Carroll returned to her alma mater after serving as a regional outreach representative at the Illinois Department of Commerce and Economic Opportunity. She joined DCEO in 2004, where she served as a liaison to the Northern Cook County Workforce Investment Board.