E-Sports
Main Content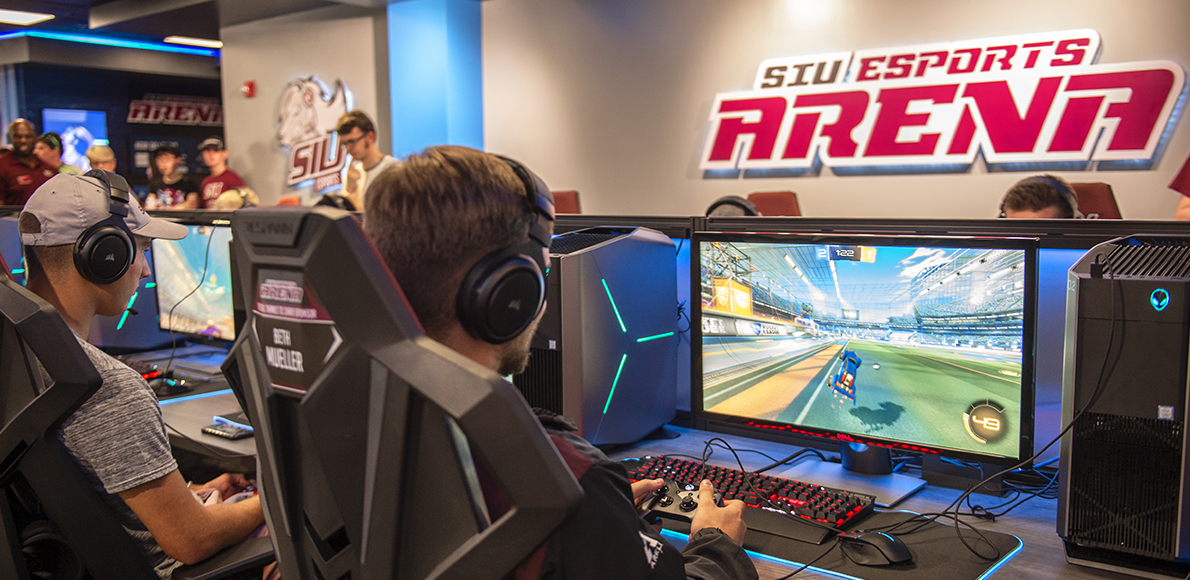 Director of Development:  Matt McCoy

Email: matthewm@foundation.siu.edu

Phone: 618/453-6096

Fax: 618/453-2262

Office: Kaplan Hall, Room 219

Address: 

Southern Illinois University Foundation
1235 Douglas Drive
Mail Code 6805
Carbondale, IL 62901
Walking into Student Center's northside entrance, the blue light is eye-catching. It draws attention to one of the university's newest attractions – the SIU Esports Arena.
Esports feature competitive multiplayer video game matches. Already popular across the globe, the draw of esports is still growing. A February report from Newzoo, a gaming industry analytics firm, estimated global esports revenue would hit $1.1 billion in 2019. In July, 16-year-old Kyle Giersdorf won $3 million playing Fortnite, one of the most popular video games featured in esports.
With the new arena, SIU has a spot at the forefront of the esports market.
"The Esports Arena adds a new opportunity for our students to engage with each other while playing competitive or recreational video games," said Tena Bennett, Student Center director.
The arena's entrance is located in the Bowling & Billiards area of the Student Center, and it's open to students, faculty, staff and community members for a small fee. It can also be booked for groups or parties. For more information, email esports@siu.edu.
SIU Esports also has a registered student organization, which will compete with other universities. The hope is to expand the team and its ability to compete in the future.
Of course, as is the case with all technology, there is a constant need for upgrades.
"In efforts to keep the SIU Esports Arena competitive among other universities, schedules have been implemented for equipment replacements including arena digital displays, gaming PCs, peripherals, chairs and controllers," said Brandon Macier, assistant marketing director for the Student Center. "Annual software upgrades and new game licensing are also a continual expense as new games are released."
"By donating to the Esports Arena, you are supporting students and adding to the dynamic culture we strive to build and maintain on our campus," Bennett said.