Points of Pride
Main Content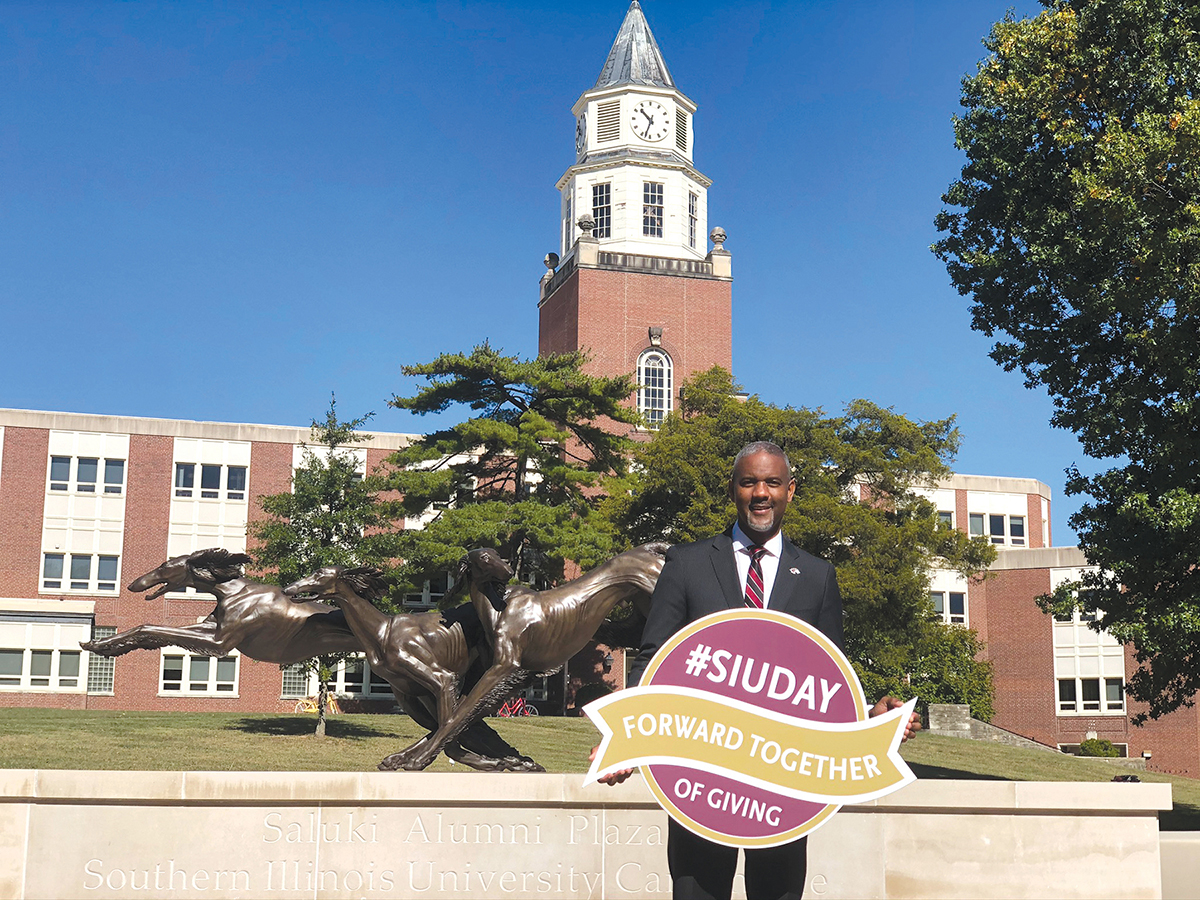 General
SIU has students from all 50 states and more than 100 countries.
There are more than 250,000 SIU alumni.
The university is ranked in the top 5 percent of all U.S. higher education institutions for research.
SIU will be the "Eclipse Crossroads of America" for the second time on April 8, 2024.
The university's Green Fund has supported 181 diverse sustainability projects since 2009.
Forever SIU
Since its launch in January 2017, the Forever SIU campaign has raised more than $280 million for student scholarships, enriching programs, enhancing facilities, advancing research, and supporting faculty. The goal is to reach $500 million by June 30, 2028.
With funds raised during the campaign, Morris Library has installed new Apple laptops, a state-of-the-art scanner, support for a 3D printer, a podcast studio, a laser printer/cutter, and much more.
The SIU Foundation hosted the inaugural Saluki Ball on April 22, 2023, welcoming more than 600 alumni and friends at the Marriott Marquis in Chicago and raising more than $600,000 to help bridge the gap for students.
Day of Giving
The first SIU Day of Giving was in March 2017. Since then, supporters have donated nearly $14 million during Day of Giving celebrations.
The 2023 SIU Day of Giving raised more than $4 million from 3,702 donors.
During previous Days of Giving, tens of thousands of dollars have been raised for special projects, including the beautification of Campus Lake and the construction of the Saluki Alumni Plaza. Alumni have also endowed multiple Balancing Education, Experience, and Reality (B.E.E.R) Scholarships.
Women's Initiatives
The recently established Women's Leadership Council hosted the inaugural Saluki Women's Weekend in September 2022. 
Morris Library
Morris Library is the largest research library in the region, serving students, faculty, and scholars on campus and around the globe.
Morris Library holds more than 2.6 million volumes, 200,000 e-books, 43,000 current periodicals and serials, and more than 3.6 million microfilm units.
School of Medicine
The Dale and Deborah Smith Center for Alzheimer's Research and Treatment at the SIU School of Medicine serves 93 Illinois counties.
In 2020, the SIU School of Medicine received the inaugural Stellar Aspire Award from the Association for Medical Education in Europe, honoring the school's achievement in five medical education categories.
School of Law
More than 100 SIU School of Law alumni serve or have served in the judiciary.
WSIU
WSIU serves more than 5 million people in two-thirds of Illinois. It also includes the Southern Illinois Radio Information Service, which helps nearly 1,000 individuals who are blind or have other physical limitations.
Aviation
The Flying Salukis have won nine national championships.
Automotive Technology
Nearly 90 percent of graduates from SIU's Automotive Technology program have jobs before graduation.
SIU Debate Team
The SIU Debate Team has won the national championship six times.
RSOs
SIU features more than 300 registered student organizations, including the successful Steel Bridge, Concrete Canoe, and Moonbuggy teams.
The Security Dawgs, SIU's Cyber Defense Team, has won three Illinois Collegiate Cyber Defense competitions.
Athletics
Saluki Athletics has produced more than 60 Olympians.
More than 100 Saluki student-athletes have been named Academic All-Americans.
Saluki Athletics has won 8 national championships.
More than 40 Salukis have played in the NFL.
The Saluki Men's Basketball team has made 10 NCAA Tournament appearances.
Saluki Swimming & Diving has featured nearly 100 All-Americans.