Saluki Takeover Tour Chicago
Main Content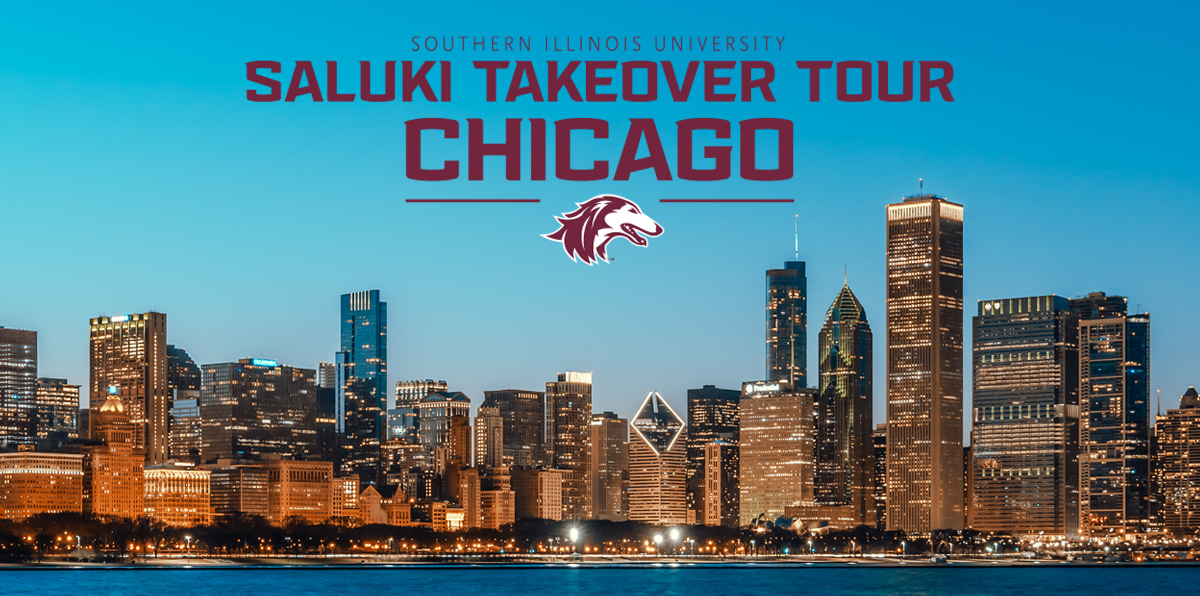 Look out Chicago, the Salukis are taking over!
This September, the city of Chicago will officially become Saluki country. SIU alumni, friends of the university, students, faculty, and staff are encouraged to join the fun during some of these exciting events. Hosting multiple events from Thursday, Sept. 15, through Saturday, Sept. 17, Saluki pride will be on full display.
Each event will celebrate the Saluki spirit and offer the chance to reconnect with the university and build new relationships with fellow alumni and university officials. There will be multiple invitation-only events, but other events, including the Chancellor's Reception and Alumni Tailgate, will be open to the public.
Mark your calendars and be on the lookout for more information as the Salukis prepare to take over Chicago!
Thursday, September 15, 2022, at 6 p.m.- Chancellor's Reception
Chancellor Austin Lane is excited to host Chicago-area Salukis with his free reception from 6 to 8 p.m. Thursday, Sept. 15, at the Chicago Firehouse Restaurant (1401 South Michigan Avenue). 
This event will feature a State of the University address from Chancellor Austin Lane and opportunities to interact with the chancellor and some of SIU's most prominent figures.
While informal in nature, there is no dress code, but business casual is suggested (although maroon is always a good choice). There will be free appetizers and two free drinks followed by a cash bar.
Friday, September 16, 2022, at 12 - 2 p.m. - Diversity, Equity and Inclusion Lunch (Sold Out)
The luncheon registration is now closed. Located at Residence Inn Chicago Downtown/Loop (11 South LaSalle Street, Chicago) on Friday, September 16 from 12 to 2 p.m. For more information, contact Sherrica Hunt at sherricah@foundation.siu.edu.
Dr. Frazier, Vice Chancellor of Diversity, Equity, and Inclusion Office of Southern Illinois University Carbondale, will honor 10 SIU Alums with an Ascension Award during the DEI Luncheon.
This award was established to recognize alums who have demonstrated a commitment to leadership and service to their industries and communities.
Friday, September 16, 2022, at 6 p.m. - Dunbar Leadership Society (Sold Out)
One of the SIU Foundation's most exciting initiatives is the Dunbar Leadership Society. At 6 p.m. Friday, September 16, those interested in the society are invited to a reception at the Promontory Point (5491 S. Jean-Baptiste Point DuSable Lake Shore Drive). This is a free event and will have the capacity for 100 guests. Registration is now closed. For more information, contact Sherrica Hunt at sherricah@foundation.siu.edu.
Established in 1904 to organize the activities of African American students, the Dunbar Leadership Society has recently been reintroduced. Through the society, the university hopes to reinvigorate its diverse alumni and create opportunities for current and future Salukis. The society will raise scholarship funds and host events that resonate with members of a multicultural campus.
The purpose of this evening's event is to ask for your support through a Leadership pledge of $1,000 to assist with the following:
Provide scholarships to low-to-moderate income African American students to increase retention and graduation rates.
Provide educational and empowering programming and leadership opportunities for African American students that promote academic, professional, and personal development and community engagement.
If you would like to support the Dunbar Leadership Society, please visit Dunbar Leadership Society to make your donation. 
Friday, September 16, 2022, at 5 p.m. - Carbondale in the '80s and '90s (B.E.E.R. Group) at Tiny Tapp
Ready to catch up with some of your fellow Salukis from the 1980s and 1990s? If so, join members of the Carbondale in the '80s and '90s Facebook group (aka the B.E.E.R. Group) from 5 to 7:30 p.m. Friday, Sept. 16, at Tiny Tapp (55 W. River Walk South) in Chicago.
Ravinia Brewing Company will be taking over the taps, featuring beer created through the brewery's partnership with SIU's Fermentation Science program.
With more than 17,600 members, the Carbondale in the '80s and '90s Facebook group has made an indelible mark on SIU. During each of the last four SIU Days of Giving, members of the group and others have donated enough money to fund multiple Balancing Education, Experience, and Reality (B.E.E.R.) Scholarships.
There is no registration fee, and the event is open to the public. There will be a cash bar, and the atmosphere will be casual. So, put on your maroon and bring your Saluki spirit as we gather to grab a drink and swap stories.
Saturday, September 17, 2022, at 8:30 a.m. - SIU Alumni Tailgate at Northwestern's Wildcat Alley
The SIU Alumni Association is hosting the SIU Alumni Tailgate at Northwestern University, starting at 8:30 a.m., Saturday, September 17. Join your fellow Salukis and the Association as we cheer on the Dawgs.

The event takes place on Northwestern's Wildcat Alley, located on the turf north of the East Lot adjacent to Ryan Field. The tailgate is limited to 400 people. Please register soon to secure your tickets. Registration closes on August 30.

Tickets are $30 and include a catered breakfast and giveaways from the Association. Hot food is guaranteed until 9:45 a.m. Attendees are welcome to bring their own alcoholic beverages. A cash bar will also be available in the tailgate area.
Learn more about this event and register online.
Game tickets can be purchased here.
(Limited game tickets available.)
Much more
These are just some of the exciting events coming to Chicago for the Saluki Takeover Tour.
Ready or not, Chicago, here come the Salukis. Go Dawgs!